Just as one can duck behind a building to avoid the wind, sails reduce the wind speed in the downwind direction. If one sailboat is to windward of another sailboat, the downwind boat must sail in a reduced wind. The boat on the right in the figure will be sailing in reduced wind.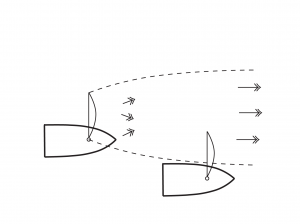 Theory predicts that the wind speed reduction should decrease as the two-thirds power of the distance downwind. The theoretical ratio of the wind speed in the shadow to the true wind speed is shown below.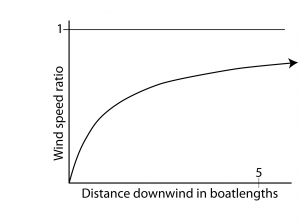 This theory predicts a wind shadow with a long tail. It also predicts the same reduction ratio for light winds and strong winds.
Most sailors would not believe this theory. Traditional sailing lore says the wind shadow is more important in light winds, and the wind shadow becomes insignificant after about half a dozen boat lengths.
Perhaps the difference between theory and reality lies in the turbulent nature of the wind. A swirling wind would more effectively eliminate the wind shadow. If the wind's relative turbulence increases with the wind speed, this would explain why the shadows are more important in light winds.